See for yourself.
Welcome to HOF Fits, a series that pays homage to the perennial MVPs of the competitive sport that is getting dressed.
It's not in Kanye West's nature to rest on his laurels. Fresh off the heels of signing a multiyear deal with Gap—a dramatic realization of a long-held dream to bring his designs to the masses—the pioneering creative polyglot dropped a new single featuring Travis Scott, his first release since 2019's Jesus Is King. Say what you will about the man, but his work ethic has always been unimpeachable. His drive is famously relentless. (Sometimes a bit too relentless: see his recently announced presidential bid, of the extremely ill-advised variety, for further proof.) So it's little surprise that while he was dropping genre-defining albums and gradually building a billion-dollar sneaker business, he was able to maintain a side hustle as the most influential figure in modern menswear, full stop.
For a period of time starting in the early 2010s, whatever Kanye wore was sacrosanct—his outfits downloaded and saved into thousands of desktop folders around the world, to be dissected in detail by hordes of frenzied followers—and over the last decade his sway has only slightly abated. (If you're a fashion-forward dude and curious about the origins of any given item in your closet, chances are Kanye had a hand in popularizing some version of it, more often than not a few years before the style hit the mainstream.) So sure, it's easy to write off some of Kanye's more out-there claims as typically second-to-none displays of pure braggadocio, but when it comes to the role he's played in shaping the look of modern menswear, it really is hard to overstate his influence.
Today, with so many of his closest collaborators now comfortably ensconced in the fashion firmament, West's influence might be less visible but remains no less prevalent. Thankfully for us, the primary perk of being one of the most famous people in the world is that there's always someone around to document your fits (even, unfortunately, when you don't want 'em to). And in Kanye's case that means a veritable treasure trove of photo evidence testifying to his influence, via image after image—after image—of his every internet-shattering outfit.
And if you've been feeling conflicted about his recent turn as a born-again Republican billionaire (with the outlandish opinions to back it up) there's some comfort to be had in tuning out the noise and focusing on the man's many, many memorable fits. Because no matter what Ye decides to do next, we'll always have his outfits, and now seems a particularly apt time to look back at some of his best.
It's Yeezy season, baby. Let's get it.
JANUARY 3,2011
The makings of Kanye's modern-era signature style begin to emerge. April 17, 2011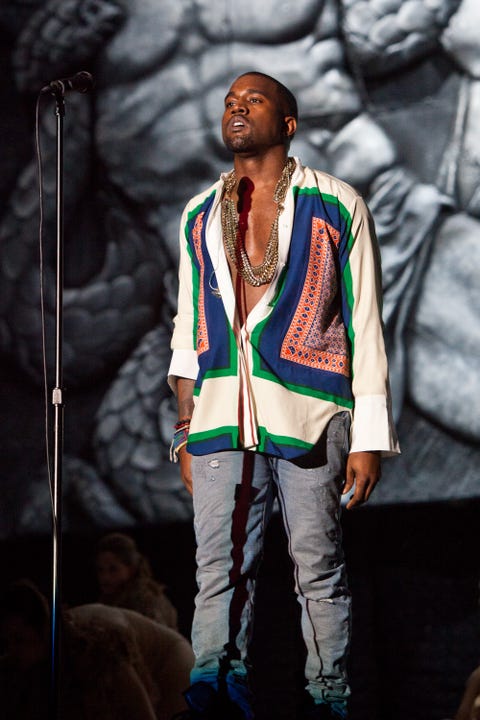 Chelsea LaurenGetty Images
Delivering one of the greatest live performances of all time in a blouse from Phoebe Philo's Celine. Advertisement – Continue Reading Below June 6, 2011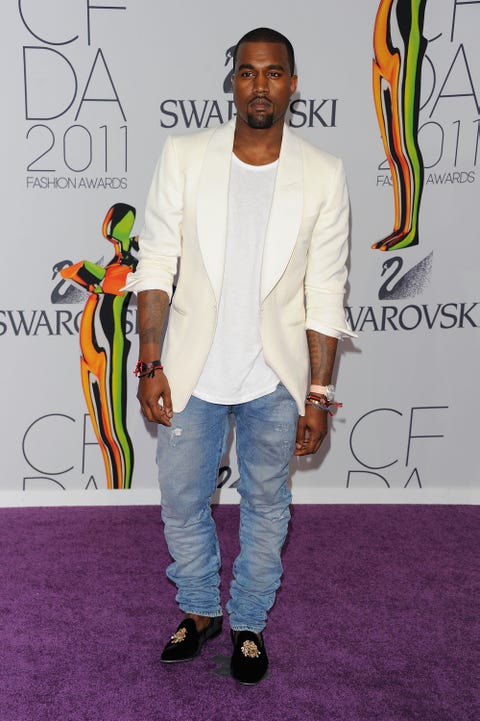 Andrew H. WalkerGetty Images
At the CFDA Awards, American fashion's swankiest event, Kanye came through looking like he knew he belonged. November 9, 2011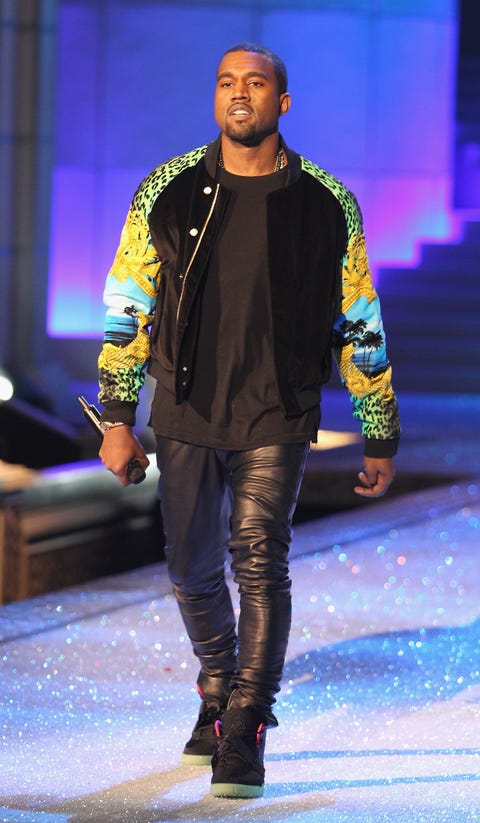 Kevin KaneGetty Images
An early look at the soon-to-be-shelved Air Yeezy 2s. (Featuring a guest appearance from H&M's collaboration with Versace. Ahhh, were we ever so young?!) Advertisement – Continue Reading Below November 29, 2011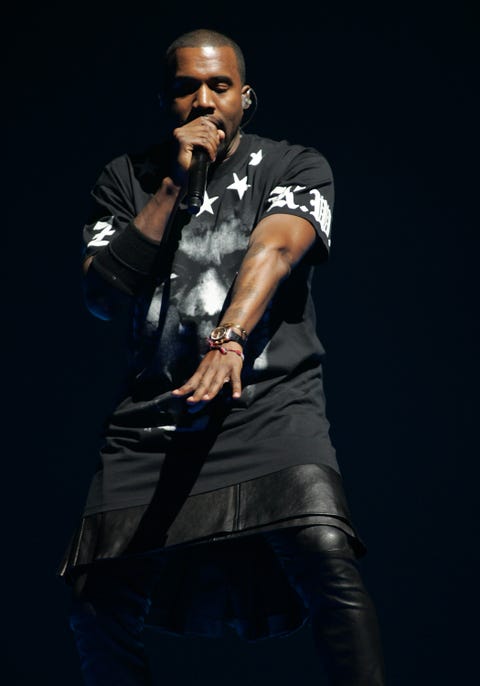 Jason SquiresGetty Images
The leather skirt (or was it a kilt?) seen, and debated, around the world. January 20, 2012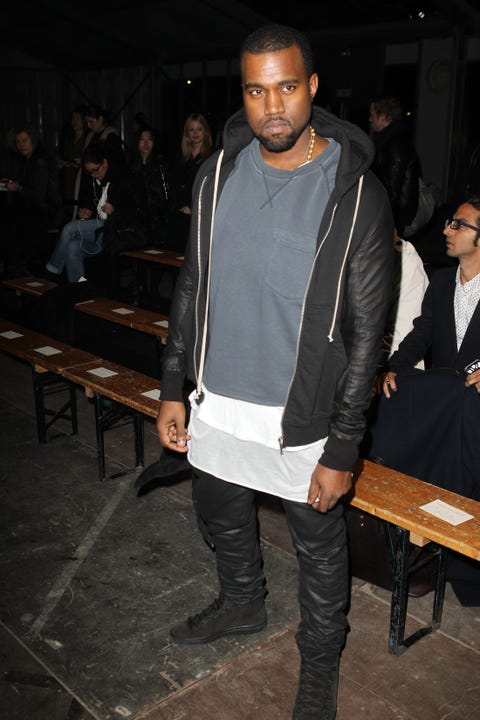 Antonio de Moraes Barros FilhoGetty Images
A masterclass in reverse layering courtesy of the man who practically invented the move. September 28, 2012
Pascal Le SegretainGetty Images
The look that singlehandedly convinced every teen at the time to suck it up and invest in a pair of Bred 1s. Advertisement – Continue Reading Below November 29, 2012
Bobby BankGetty Images
A big-ass, floor-dragging fur and some supple, stacked leather pants, part deux. September 29, 2013
Marc PiaseckiGetty Images
Making a Rick Owens DRKSHDW parka and fringed Visvim FBTs look like the most natural fit in the world. Advertisement – Continue Reading Below November 19, 2013
Raymond HallGetty Images
Another day, another (really, really good) DRKSHDW parka. September 28, 2013
Marc PiaseckiGetty Images
Another signature look emerges. Advertisement – Continue Reading Below March 2, 2104
Pierre SuuGetty Images
Doing double-denim like nobody's business. May 6, 2014
Alo CeballosGetty Images
An early scene-stealing cameo from what would quickly become a Kanye staple: Bottega Veneta's distinctive chelsea boots. September 24, 2014
Jacopo RauleGetty Images
A look that foretold our current infatuation with the functionality of the handkerchief (though, perhaps, with less practical intentions in mind). Advertisement – Continue Reading Below September 25, 2014
Marc PiaseckiGetty Images
In a Dries Van Noten coat so nice it looks downright kingly. November 6, 2014
James DevaneyGetty Images
In his-and-hers matching Balmain blazers. January 24, 2015
Paul MorigiGetty Images
Suited and booted, baby! Advertisement – Continue Reading Below February 8, 2015
Larry BusaccaGetty Images
A full-on velour Haider Ackermann sweatsuit is always a solid move, especially sitting front row at the motherfucking Academy Awards. February 18, 2015
Gilbert CarrasquilloGetty Images
(Bonus points if you rock the top half of said sweatsuit, like, every other day for the rest of the year.) February 20, 2015
Danny MartindaleGetty Images
Suitably understated (well, almost) to pay his respects to Central Saint Martins' legendary Louise Wilson. Advertisement – Continue Reading Below March 4, 2015
Jacopo RauleGetty Images
In the now-infamous Raf Simons bomber Ye put on the map in a big way. March 5, 2015
Pascal Le SegretainGetty Images
In a Vetements sweatshirt Kanye rocked with a steadfast resoluteness for, like, three months straight. March 11, 2015
Pascal Le SegretainGetty Images
Another perfectly-cropped bomber, from the Columbian-born French designer—and fast Kanye favorite—Haider Ackermann. Advertisement – Continue Reading Below April 5, 2015
Bauer-GriffinGetty Images
Easter Sunday style, done the Ye way. July 24, 2015
Stefanie KeenanGetty Images
Expertly executed monochromatic dressing, made all the better by the type of proportion play Kanye popularized. July 24, 2015
C FlaniganGetty Images
Fifty Shades of Beige. (A book I'd read in a heartbeat!) Advertisement – Continue Reading Below October 2, 2015
Pierre SuuGetty Images
Repurposed military-inspired gear worn with an oversized flannel and a faded vintage tee (with some very rare sneakers thrown in for good measure)? Another signature style emerges. April 23, 2016
Gustavo CaballeroGetty Images
Don't get it twisted: Kanye still knows his way around some extremely sharp suiting. Advertisement – Continue Reading Below April 24, 2016
Dave LeeGetty Images
A true return to form. May 2, 2016
George PimentelGetty Images
A (big) Met Gala fit for the fucking books. June 5, 2016
XPX/Star MaxGetty Images
Still one of the best vintage bombers I've ever seen. Advertisement – Continue Reading Below June 20, 2016
Josiah KamauGetty Images
All-white athleisure worn as it should be: with subtle hints of gold and some pants that don't look like they're made entirely out of spandex. August 28, 2016
Anthony HarveyGetty Images
Branded tour merchandise never looked so red white carpet ready. August 29, 2016
Alo CeballosGetty Images
Might call Tupac over! Advertisement – Continue Reading Below October 3, 2016
Pierre SuuGetty Images
Kanye in a standout Dries tee and some absolutely shredded jeans from Jerry Lorenzo's fourth collection for Fear of God. October 4, 2016
Josiah KamauGetty Images
The beginnings of a long and fruitful relationship with hard-wearing American workwear (and a signature pant-tuck tic that—to this day—only Ye can pull off). December 16, 2016
Rachel MurrayGetty Images
A meeting of the minds I'd give anything to get in on. Advertisement – Continue Reading Below February 10, 2017
Pierre SuuGetty Images
An absolute unit of a coat courtesy of one of Yeezy's earliest collections. June 21, 2018
Pierre SuuGetty Images
Moments before arriving at a show that culminated in The Hug that melted hearts around the world. August 9, 2018
BG017/Bauer-GriffinGetty Images
A cropped, boxy tee, ultra-practical, utilitarian pants, and some hard-worn Yeezy boots: Yet another signature style emerges. (Peep Tremaine Emory, of Denim Tears fame, in the back with the equally big fit.) Advertisement – Continue Reading Below September 7, 2018
Gary GershoffGetty Images
It takes a lot to get Ye into some old-school tailoring these days. Ralph Lauren's 50th anniversary bash clearly makes the cut. December 3, 2019
Jenny AndersonGetty Images
And when Kanye suits up, he almost always comes correct. *Chef's kiss* Advertisement – Continue Reading Below May 6, 2019
John ShearerGetty Images
The best damn outfit of the whole damn year. (Don't @ me, dog.) September 29, 2019
Robert KamauGetty Images
In a faded RRL jean jacket and some simple, unassuming sweats (topped off with some flashy designer shades and a clean pair of Yeezys), Ye models the mix of high-low references that remain his lodestars when it comes to getting dressed. November 7, 2019
Robert KamauGetty Images
A big-ass coat and super study boots: twin pillars of Kanye's personal style throughout the years. Advertisement – Continue Reading Below December 22, 2019
James DevaneyGetty Images
DadYe does things way different. (In grosgrain-striped pants and a satin-y jacket, naturally. It's still Kanye, man.) February 5, 2020
Robert KamauGetty Images
A cheerful Kanye out and about in NYC (with Virgil Abloh by his side), showing love for another one of his close friends in the Denim Tears x Levi's collaboration and some corduroy Kapital pants. Advertisement – Continue Reading Below February 9, 2020
Gregg DeGuireGetty Images
Showing up (and showing out!) in an updated take on the double-breasted blazer from British heritage label Dunhill. March 1, 2020
Pierre SuuGetty Images
Making a baseball shirt look like an absolutely luxurious necessity. Not an easy task, but executed effortlessly. March 2, 2020
Pierre SuuGetty Images
Dressed-up workwear classics, done the way only Ye can do it. Subscribe to Esquire Magazine